The Softline Silhouette embraces the signature curved side panels and top grille that make this latest addition to the Softline series, one to watch. Vertical lines on the casing add sophistication and strength to the aesthetic appeal.
The Stelrad Softline Silhouette Concept in Anthracite grey adds a modern feature to any room, with its vertical lines on the casing adding sophistication and strength to the aesthetic appeal.
As a measure of all round dependable quality and performance, the Stelrad Softline Silhouette Concept radiator comes complete with a 15 Year Warranty.
Every radiator comes wrapped in robust, practical packaging that will keep the product pristine, right through to handover. Protective through storage and transit, the new packaging design also allows for installation prior to removal.
Available from TP Group, CPS & PTS
Click here to watch how to install the Softline Silhouette Concept.
You can follow the simple step by step instructions by using the following link to download the 'How to bleed a radiator' advice sheet or click here to watch a short video on how to bleed a Stelrad radiator.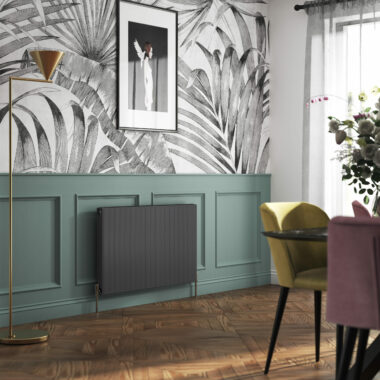 This product is available in multiple sizes
Size
Heat Output
Price
600mm x 1400mm
Watts: 1218 - 2241 Btu/hr: 4156 - 7646

From:

£

261.68

Incl VAT

View
600mm x 1200mm
Watts: 1044 - 1921 Btu/hr: 3562 - 6554

From:

£

241.16

Incl VAT

View
600mm x 800mm
Watts: 696 - 1281 Btu/hr: 2375 - 4371

From:

£

200.09

Incl VAT

View
600mm x 600mm
Watts: 522 - 961 Btu/hr: 1781 - 3279

From:

£

183.63

Incl VAT

View
600mm x 400mm
Watts: 348 - 640 Btu/hr: 1187 - 2184

From:

£

172.41

Incl VAT

View
Related products