The Stelrad Slimline Towel Rail has 22mm tubing in a chrome finish offering a slimline option at an affordable price.
It's almost taken for granted that every new bathroom will feature a towel rail radiator these days. The Stelrad Slimline Towel Rail is a worthy addition to the impressive Kitchens & Bathrooms Series of radiators designed primarily for bathrooms and kitchens. With its smart 22mm tubing in a chrome finish, at an affordable price and a two year warranty, the Slimline towel rail makes the option of a classy slimline chrome finish towel rail a possibility for every bathroom.
Click here to watch how to install the Slimline Towel Rail.
You can follow the simple step by step instructions by using the following link to download the 'How to bleed a radiator' advice sheet or  click here to watch a short video on how to bleed a Stelrad radiator.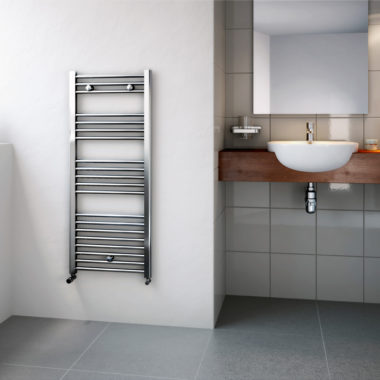 This product is available in multiple sizes
Size
Heat Output
Price
1785mm x 500mm
Watts: 511 Btu/hr: 1744

From:

£

227.08

Incl VAT

View
1785mm x 600mm
Watts: 614 Btu/hr: 2095

From:

£

272.48

Incl VAT

View
650mm x 400mm
Watts: 180 Btu/hr: 614

From:

£

90.39

Incl VAT

View
803mm x 500mm
Watts: 230 Btu/hr: 785

From:

£

102.16

Incl VAT

View
803mm x 600mm
Watts: 265 Btu/hr: 904

From:

£

109.94

Incl VAT

View
1188mm x 500mm
Watts: 327 Btu/hr: 1116

From:

£

123.20

Incl VAT

View
1188mm x 600mm
Watts: 382 Btu/hr: 1303

From:

£

147.84

Incl VAT

View
1600mm x 600mm
Watts: 525 Btu/hr: 1791

From:

£

218.49

Incl VAT

View
Related products