Meaning 'heat', the Caliente is the epitome of effective, high design heating for the bathroom or kitchen.
The Caliente was launched at Ecobuild 2012, named in a competition by a customer visiting the show and entering a competition on the Stelrad stand. Spanish for 'heat', Caliente has quickly become a favourite designer radiator model.
Featuring an elegant tube-on-tube design consisting of a tight array of slim tubes, the Caliente Rail is an easy choice for any bathroom or kitchen whether it's a modern, contemporary or period interior.
The single and double Caliente Rail models both have an attractive tubular finish and are ideal for any bathroom, shower room or wet room set up.
Available as standard in white, the towel rail is also available in a range of 35 colours making it simple to match and contrast colour schemes.
Every radiator comes wrapped in robust, practical packaging that will keep the product pristine, right through to handover. Protective through storage and transit, the new packaging design also allows for installation prior to removal.
Strictly controlled independent laboratory testing ensures that all Stelrad radiators are guaranteed to perform to a maximum working pressure of 116 psi (8 bar), and conform to BS EN 442, the European Standard for radiators.
Click here to watch how to install the Caliente Rail.
You can follow the simple step by step instructions by using the following link to download the 'How to bleed a radiator' advice sheet or  click here to watch a short video on how to bleed a Stelrad radiator.
View our vertical radiators.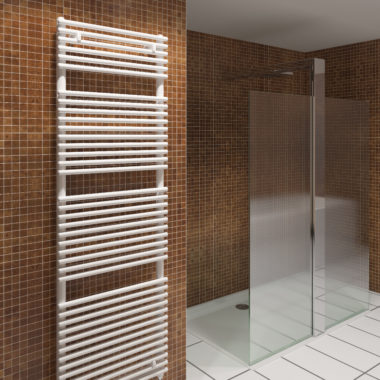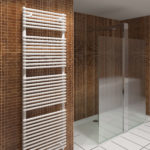 This product is available in multiple sizes
Size
Heat Output
Price
2013mm x 600mm
Watts: 1294 - 1874 Btu/hr: 4415 - 6394

From:

£

678.16

Incl VAT

View
2013mm x 500mm
Watts: 1099 - 1576 Btu/hr: 3750 - 5377

From:

£

642.05

Incl VAT

View
1791mm x 500mm
Watts: 986 - 1402 Btu/hr: 3364 - 4784

From:

£

602.93

Incl VAT

View
1791mm x 600mm
Watts: 1158 - 1670 Btu/hr: 3951 - 5698

From:

£

643.98

Incl VAT

View
1791mm x 750mm
Watts: 1416 - 2073 Btu/hr: 4831 - 7073

From:

£

699.64

Incl VAT

View
2013mm x 450mm
Watts: 1002 - 1427 Btu/hr: 3419 - 4869

From:

£

614.73

Incl VAT

View
1199mm x 750mm
Watts: 972 - 1441 Btu/hr: 3316 - 4917

From:

£

588.71

Incl VAT

View
1791mm x 450mm
Watts: 900 - 1268 Btu/hr: 3071 - 4326

From:

£

587.03

Incl VAT

View
2013mm x 750mm
Watts: 1586 - 2321 Btu/hr: 5411 - 7919

From:

£

740.61

Incl VAT

View
755mm x 450mm
Watts: 389 - 565 Btu/hr: 1327 - 1928

From:

£

463.57

Incl VAT

View
755mm x 500mm
Watts: 431 - 626 Btu/hr: 1471 - 2136

From:

£

471.14

Incl VAT

View
755mm x 600mm
Watts: 517 - 749 Btu/hr: 1764 - 2556

From:

£

486.25

Incl VAT

View
Related products