Stelrad's range of Low Surface Temperature radiators is the most comprehensive in the UK with sizes and models to suit all applications. They all meet NHS Guidance for 'safe hot water and surface temperature' and are finished in antibacterial paint as standard making them the number one choice for safety critical environments.
The LST i Plus come with a Danfoss RAS-D Remote Sensor is designed specifically for commercial heating systems and can be pre-set to allow adjustment of room temperatures between 5 and 26 degrees Celsius.
Every Stelrad LST radiator is supplied with an attractive, flat panel outer casing, which is totally reversible to allow piping flexibility. Simple and quick to install, the casing is held by security fittings with a unique seam fixing bracket system to prevent unauthorised access to the emitter accommodated inside – and for added protection, the smooth surface is coated in anti-bacterial paint.
The emitter itself provides high outputs through convection for outstanding heating performance. Strictly controlled independent laboratory testing ensures that each emitter is guaranteed to perform to a maximum working pressure of 116 psi (8 bar) and conform to BS EN 442, the European Standard for radiators.
The LST range offers all the specified components required in one robust package, and, as you would expect from Stelrad, every LST radiator is guaranteed to deliver outstanding performance and dependability.
Every radiator comes wrapped in robust, practical packaging that will keep the product pristine, right through to handover. Protective through storage and transit, the new packaging design also allows for installation prior to removal.
Please note – From the 1st January 2016, the LST Plus will be discontinued and the Stelrad Radiator Group will substitute all LST Plus contracts and specifications with the new LST i Plus products.
To see how easy it is to install a LST i Plus, click here.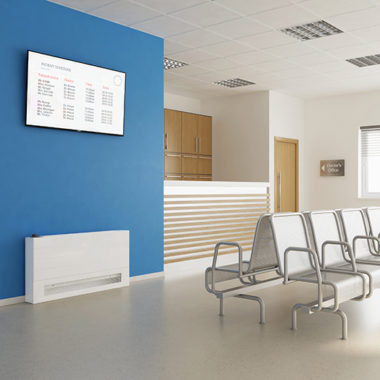 This product is available in multiple sizes
| Size | Heat Output | Price | |
| --- | --- | --- | --- |
| 650mm x 850mm | | From: | View |
| 650mm x 1050mm | | From: | View |
| 650mm x 1250mm | | From: | View |
| 650mm x 1450mm | | From: | View |
| 650mm x 1650mm | | From: | View |
| 650mm x 1850mm | | From: | View |
| 650mm x 2050mm | | From: | View |
| 800mm x 650mm | | From: | View |
| 800mm x 850mm | | From: | View |
| 800mm x 1050mm | | From: | View |
| 800mm x 1250mm | | From: | View |
| 800mm x 1450mm | | From: | View |
Related products