The LST Standard Deco meets all the requirements of the NHS Guidance for 'safe hot water and surface temperature' in Stelrad's popular and sector leading LST radiator design, but with the added attraction of a designer type fascia panel.
Like the LST Standard, you are free to choose your preferred controls and can be installed in domestic, commercial and public buildings' running heating systems.
The Stelrad LST Standard Deco radiator has a reversible flat panel outer casing which has the Deco fascia, which is totally reversible to allow piping flexibility. Like the rest of the LST range, the fascia is easy install and held by security fittings with a unique seam fixing bracket system to prevent unauthorised access to the emitter accommodated inside – and the Deco lined fascia is coated in anti-bacterial paint as standard.
The casing comes complete with a 5-year warranty and a 10-year warranty on the emitter.
**Please note: there is a 4 week lead time when ordering this product**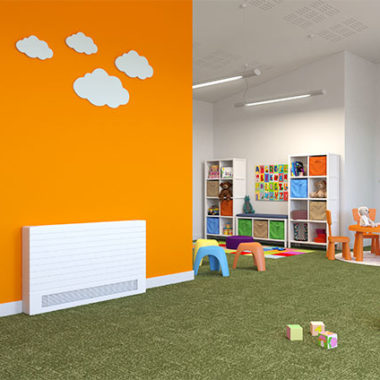 This product is available in multiple sizes
Size
Heat Output
Price
800mm x 1160mm
Watts: 913 - 1537 Btu/hr: 3115 - 5244

From:

£

352.56

Incl VAT

View
800mm x 1360mm
Watts: 1096 - 1844 Btu/hr: 3740 - 6292

From:

£

394.01

Incl VAT

View
800mm x 1560mm
Watts: 1278 - 2152 Btu/hr: 4361 - 7343

From:

£

444.57

Incl VAT

View
800mm x 1760mm
Watts: 1461 - 2459 Btu/hr: 4985 - 8390

From:

£

539.91

Incl VAT

View
800mm x 1960mm
Watts: 1643 - 2767 Btu/hr: 5606 - 9441

From:

£

559.90

Incl VAT

View
650mm x 1360mm
Watts: 870 - 1434 Btu/hr: 2968 - 4893

From:

£

341.06

Incl VAT

View
650mm x 1560mm
Watts: 1015 - 1673 Btu/hr: 3463 - 5708

From:

£

405.93

Incl VAT

View
650mm x 1760mm
Watts: 1160 - 1912 Btu/hr: 3958 - 6524

From:

£

450.51

Incl VAT

View
650mm x 1960mm
Watts: 1305 - 2151 Btu/hr: 4453 - 7339

From:

£

491.48

Incl VAT

View
500mm x 560mm
Watts: 196 - 348 Btu/hr: 669 - 1187

From:

£

180.87

Incl VAT

View
800mm x 460mm
Watts: 274 - 461 Btu/hr: 935 - 1573

From:

£

242.27

Incl VAT

View
500mm x 760mm
Watts: 293 - 522 Btu/hr: 1000 - 1781

From:

£

213.45

Incl VAT

View
Related products