The Softline Compact K3 radiator brings a model that is ideal for low energy heating systems, providing outstanding heat output from a smaller radiator footprint to the popular Softline Series.
With three panels and three fins, but the same Softline elegance as the rest of the Softline models, the Softline K3 provides a solution to homes needing additional heat from a lower temperature renewable system, where wall space is at a premium, without sacrificing the curves and designer good looks of the Softline Series.
Click here to watch how to install the Softline Compact
You can follow the simple step by step instructions by using the following link to download the 'How to bleed a radiator' advice sheet or click here to watch a short video on how to bleed a Stelrad radiator.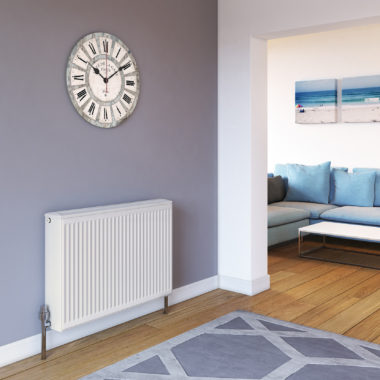 This product is available in multiple sizes
Size
Heat Output
Price
600mm x 400mm
Watts: 956 Btu/hr: 3262

From:

£

193.73

Incl VAT

View
600mm x 500mm
Watts: 1195 Btu/hr: 4077

From:

£

234.17

Incl VAT

View
600mm x 600mm
Watts: 1433 Btu/hr: 4889

From:

£

269.94

Incl VAT

View
600mm x 700mm
Watts: 1672 Btu/hr: 5705

From:

£

307.46

Incl VAT

View
600mm x 800mm
Watts: 1911 Btu/hr: 6520

From:

£

350.00

Incl VAT

View
600mm x 900mm
Watts: 2150 Btu/hr: 7336

From:

£

386.78

Incl VAT

View
600mm x 1100mm
Watts: 2628 Btu/hr: 8967

From:

£

460.91

Incl VAT

View
600mm x 1200mm
Watts: 2867 Btu/hr: 9782

From:

£

503.14

Incl VAT

View
600mm x 1400mm
Watts: 3345 Btu/hr: 11413

From:

£

541.00

Incl VAT

View
Related products