Beautiful radiators to match any space.
The  Vita Column Horizontal adds a timeless classic design to the ever popular Vita Series. Perfect designs for both contemporary and traditional interiors, the Vita Column Horizontal is available in a range of sizes that will see these beautiful radiators matching virtually any space in the home. Featuring 2,3 and 4 columns and 600mm height, all coming with a five-year warranty – these are a classic addition to the already comprehensive Vita Series that is taking the UK radiator marketplace by storm.
You can follow the simple step by step instructions by using the following link to download the 'How to bleed a radiator' advice sheet or  click here to watch a short video on how to bleed a Stelrad radiator.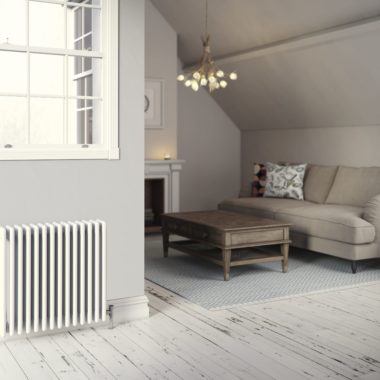 This product is available in multiple sizes
Size
Heat Output
Price
500mm x 444mm
Watts: 464 - 608 Btu/hr: 1584 - 2075

From:

£

178.20

Incl VAT

View
300mm x 628mm
Watts: 416 - 545 Btu/hr: 1420 - 1860

From:

£

214.32

Incl VAT

View
300mm x 444mm
Watts: 288 - 377 Btu/hr: 983 - 1287

From:

£

166.61

Incl VAT

View
300mm x 1272mm
Watts: 864 - 1131 Btu/hr: 2949 - 3860

From:

£

393.76

Incl VAT

View
300mm x 1870mm
Watts: 1280 Btu/hr: 4369

From:

£

599.42

Incl VAT

View
300mm x 1456mm
Watts: 992 Btu/hr: 3386

From:

£

460.65

Incl VAT

View
750mm x 1272mm
Watts: 2006 - 2630 Btu/hr: 6846 - 8976

From:

£

504.66

Incl VAT

View
750mm x 1042mm
Watts: 1635 - 2143 Btu/hr: 5580 - 7314

From:

£

421.95

Incl VAT

View
750mm x 858mm
Watts: 1337 - 1753 Btu/hr: 4563 - 5983

From:

£

337.82

Incl VAT

View
628mm x 750mm
Watts: 1266 Btu/hr: 4321

From:

£

368.31

Incl VAT

View
600mm x 628mm
Watts: 877 Btu/hr: 2993

From:

£

261.36

Incl VAT

View
750mm x 1870mm
Watts: 2972 Btu/hr: 10143

From:

£

757.00

Incl VAT

View
Related products