Beautiful radiators to match any space.
The Vita Column Vertical provides a real style statement. Ideal for use in any minimalist projects or where wall space is restricted. Featuring two columns and up to 2000mm height, and all coming with a five-year warranty – these are a classic addition to the already comprehensive Vita Series range that is taking the UK radiator marketplace by storm.
Please note: Due to production tolerances, the length of the product and therefore tap centres could contain a variation of +/- 1.5% of the overall stated length.
The standard model is supplied in RAL 9016, and is also available in a wide choice of other RAL colour options to harmonise with the boldest or most neutral of decors. For a chic solution that can accentuate the use of traditional materials and, enhance a contemporary or period appearance, the Classic Column is the perfect choice.
With a variety of heights and widths in 2 column options the Vita Column Vertical provides versatile sizing flexibility that is ideal for use in a minimalist project, or for applications where workspace is restricted.
As a measure of all-round dependable quality and performance, the Softline Column Concept radiator comes complete with a 5 Year Warranty.
Every one of our Vita Column Vertical radiators comes wrapped in robust, practical packaging that will keep the product pristine, right through to handover. Protective through storage and transit, the new packaging design also allows for installation prior to removal.
You can follow the simple step by step instructions by using the following link to download the 'How to bleed a radiator' advice sheet or click here to watch a short video on how to bleed a Stelrad radiator.
View more of our vertical radiators.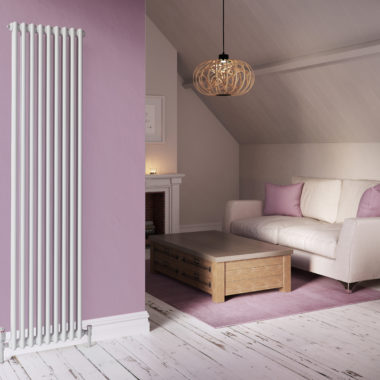 This product is available in multiple sizes
Size
Heat Output
Price
2500mm x 352mm
Watts: 1197 Btu/hr: 4085

From:

£

260.73

Incl VAT

View
2000mm x 444mm
Watts: 1242 Btu/hr: 4239

From:

£

375.45

Incl VAT

View
1800mm x 444mm
Watts: 1116 Btu/hr: 3809

From:

£

375.45

Incl VAT

View
2000mm x 352mm
Watts: 966 Btu/hr: 3297

From:

£

233.81

Incl VAT

View
1800mm x 352mm
Watts: 868 Btu/hr: 2962

From:

£

233.81

Incl VAT

View
1800mm x 444mm
Watts: 1116 Btu/hr: 3809

From:

£

263.88

Incl VAT

View
2000mm x 444mm
Watts: 1242 Btu/hr: 4239

From:

£

263.88

Incl VAT

View
Related products