Offering visual appeal combined with advanced technology, Vita Concord Slimline radiators provides a contemporary solution for a wide range of building applications.
The Vita Concord has a variety of sizes and outputs, and allows extensive flexibility of siting, whilst breaking new barriers in heating efficiency.
Whatever your building specification, you can be sure that this advanced range of radiators will provide elegant visual style, combined with top quality engineering and performance.
Every radiator comes wrapped in robust, practical packaging that will keep the product pristine, right through to handover. Protective through storage and transit, the new packaging design also allows for installation prior to removal.
Strictly controlled independent laboratory testing ensures that all Stelrad radiators are guaranteed to perform to a maximum working pressure of 66.7 psi (4.6 bar), and conform to BS EN 442, the European Standard for radiators.
You can follow the simple step by step instructions by using the following link to download the 'How to bleed a radiator' advice sheet or  click here to watch a short video on how to bleed a Stelrad radiator.
View our vertical radiator collection for more information.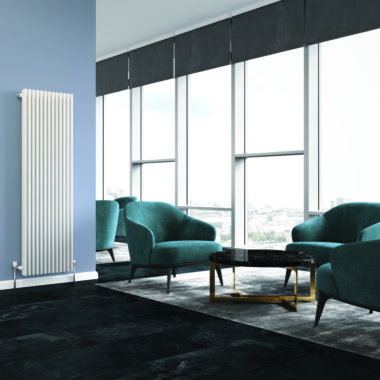 This product is available in multiple sizes
Size
Heat Output
Price
2000mm x 320mm
Watts: 978 Btu/hr: 3337

From:

£

300.46

Incl VAT

View
2000mm x 520mm
Watts: 1589 Btu/hr: 5422

From:

£

448.01

Incl VAT

View
2000mm x 640mm
Watts: 1956 Btu/hr: 6674

From:

£

552.95

Incl VAT

View
1800mm x 320mm
Watts: 872 Btu/hr: 2975

From:

£

291.57

Incl VAT

View
1800mm x 440mm
Watts: 1199 Btu/hr: 4091

From:

£

391.12

Incl VAT

View
1800mm x 520mm
Watts: 1417 Btu/hr: 4835

From:

£

435.57

Incl VAT

View
1800mm x 640mm
Watts: 1744 Btu/hr: 5951

From:

£

533.37

Incl VAT

View
Related products