A minimal, stylish design for an understated, flat finish. Simplicity at its best.
Our Vita Plan radiator features a stunning, simplistic finish, featuring a flat exterior for the ultimate in minimal design.
Available in a wide range of heights and widths, the Vita Plan can be tailored to work for any space.
As a measure of all round dependable quality and performance, the Stelrad Vita Plan radiator comes complete with a 10 Year Warranty.
Every radiator comes wrapped in robust, practical packaging that will keep the product pristine, right through to handover. Protective through storage and transit, the new packaging design also allows for installation prior to removal.
Click here to watch how to install the Vita Plan.
You can follow the simple step by step instructions by using the following link to download the 'How to bleed a radiator' advice sheet or  click here to watch a short video on how to bleed a Stelrad radiator.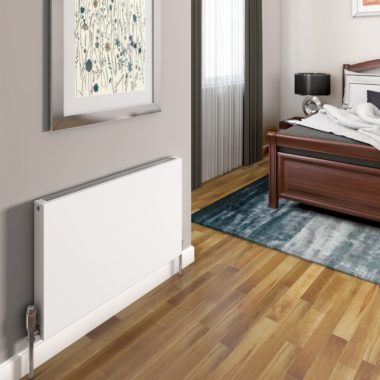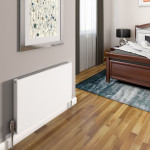 This product is available in multiple sizes
Size
Heat Output
Price
300mm x 1000mm
Watts: 469 - 929 Btu/hr: 1601 - 3171

From:

£

140.87

Incl VAT

View
300mm x 500mm
Watts: 235 - 465 Btu/hr: 802 - 1587

From:

£

86.31

Incl VAT

View
600mm x 1000mm
Watts: 911 - 1634 Btu/hr: 3108 - 5575

From:

£

186.95

Incl VAT

View
600mm x 800mm
Watts: 729 - 1307 Btu/hr: 2487 - 4459

From:

£

149.56

Incl VAT

View
600mm x 600mm
Watts: 547 - 980 Btu/hr: 1866 - 3344

From:

£

112.18

Incl VAT

View
600mm x 400mm
Watts: 364 - 654 Btu/hr: 1242 - 2231

From:

£

96.11

Incl VAT

View
450mm x 1800mm
Watts: 1262 - 2333 Btu/hr: 4306 - 7961

From:

£

334.91

Incl VAT

View
600mm x 2000mm
Watts: 1822 - 3268 Btu/hr: 6217 - 11150

From:

£

374.73

Incl VAT

View
450mm x 1400mm
Watts: 981 - 1814 Btu/hr: 3347 - 6190

From:

£

239.93

Incl VAT

View
450mm x 1200mm
Watts: 841 - 1555 Btu/hr: 2870 - 5306

From:

£

205.65

Incl VAT

View
450mm x 1000mm
Watts: 701 - 1296 Btu/hr: 2392 - 4422

From:

£

171.36

Incl VAT

View
450mm x 800mm
Watts: 561 - 1037 Btu/hr: 1914 - 3538

From:

£

137.09

Incl VAT

View
Related products