Available in a range of bespoke colour finishes. The optional towel rail makes the Ultra perfectly suitable for any bathroom and kitchen.
***Please note that the towel rails are only optional extras for Vita Ultra's up to 1000mm in length, anything over 1000mm towel rails are not available***
Our Vita Ultra radiator is ideal for those who are passionate about colour. Available in a range of heights and widths, the Vita Ultra can be tailored to work for any space and is made to order.
Available in a range of bespoke finishes and complete with optional towel rail, the Ultra is perfectly suitable to any bathrooms and kitchens.  (Please note: only the front fascia panel can be coloured, the emitter, top grille and side panels are black)
Click here to watch how to install the Vita Ultra.
You can follow the simple step by step instructions by using the following link to download the 'How to bleed a radiator' advice sheet or  click here to watch a short video on how to bleed a Stelrad radiator.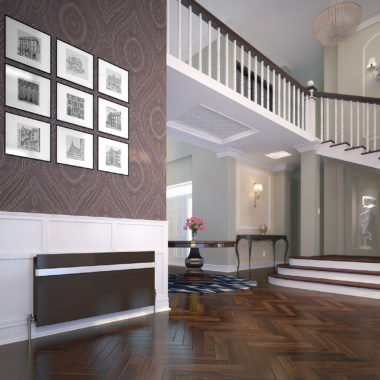 This product is available in multiple sizes
Size
Heat Output
Price
545mm x 870mm
Watts: 1043 Btu/hr: 3559

From:

£

370.82

Incl VAT

View
545mm x 670mm
Watts: 782 Btu/hr: 2668

From:

£

320.88

Incl VAT

View
545mm x 470mm
Watts: 522 Btu/hr: 1781

From:

£

249.63

Incl VAT

View
545mm x 1070mm
Watts: 1304 Btu/hr: 4449

From:

£

427.92

Incl VAT

View
545mm x 1270mm
Watts: 1565 Btu/hr: 5340

From:

£

513.53

Incl VAT

View
645mm x 2070mm
Watts: 2996 - 3203 Btu/hr: 10223 - 10928

From:

£

1,192.05

Incl VAT

View
645mm x 1870mm
Watts: 2696 - 2883 Btu/hr: 9199 - 9836

From:

£

1,020.50

Incl VAT

View
645mm x 1470mm
Watts: 2097 - 2242 Btu/hr: 7155 - 7649

From:

£

701.66

Incl VAT

View
645mm x 1270mm
Watts: 1798 - 1921 Btu/hr: 6135 - 6556

From:

£

601.37

Incl VAT

View
645mm x 1070mm
Watts: 1498 - 1601 Btu/hr: 5111 - 5464

From:

£

501.21

Incl VAT

View
645mm x 870mm
Watts: 1198 - 1281 Btu/hr: 4088 - 4372

From:

£

400.94

Incl VAT

View
Related products