Smaller radiators for smaller rooms
The introduction of a new 300mm wide Compact radiator is the response to customer demand. Available in sizes up to 700mm height, these new smaller radiators are ideal for smaller rooms, and those where available wall space is at a premium. In all other respects these new smaller radiators reflect the performance and outputs of the Compact range and are available from stock.
Click here to watch how to install the Compact 300
You can follow the simple step by step instructions by using the following link to download the 'How to bleed a radiator' advice sheet or click here to watch a short video on how to bleed a Stelrad radiator.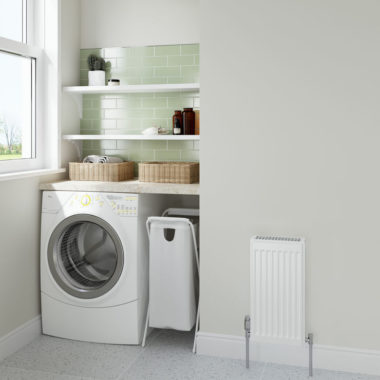 This product is available in multiple sizes
Size
Heat Output
Price
700mm x 2000mm
Watts: 2234 - 3927 Btu/hr: 7623 - 13404

From:

£

500.60

Incl VAT

View
700mm x 1800mm
Watts: 2010 - 3529 Btu/hr: 6860 - 12044

From:

£

500.60

Incl VAT

View
700mm x 1400mm
Watts: 1563 - 2745 Btu/hr: 5336 - 9367

From:

£

388.12

Incl VAT

View
700mm x 1600mm
Watts: 1787 - 3137 Btu/hr: 6098 - 10705

From:

£

444.99

Incl VAT

View
700mm x 1200mm
Watts: 1340 - 2352 Btu/hr: 4573 - 8029

From:

£

332.66

Incl VAT

View
700mm x 1000mm
Watts: 1117 - 1960 Btu/hr: 3811 - 6691

From:

£

277.36

Incl VAT

View
700mm x 1100mm
Watts: 1228 - 2156 Btu/hr: 4192 - 7360

From:

£

277.36

Incl VAT

View
700mm x 800mm
Watts: 893 - 1568 Btu/hr: 3049 - 5353

From:

£

220.44

Incl VAT

View
700mm x 900mm
Watts: 1005 - 1764 Btu/hr: 3430 - 6022

From:

£

220.44

Incl VAT

View
700mm x 700mm
Watts: 782 - 1372 Btu/hr: 2668 - 4684

From:

£

170.67

Incl VAT

View
700mm x 500mm
Watts: 558 - 980 Btu/hr: 1906 - 3345

From:

£

139.26

Incl VAT

View
700mm x 600mm
Watts: 670 - 1176 Btu/hr: 2287 - 4015

From:

£

166.46

Incl VAT

View
Related products