When it comes to heating your home, there are a number of important factors to consider before you can come to a decision about the best possible way forward for you and your family. Especially in recent years, the options available have grown allowing homeowners to choose from the available options. With key considerations including factors such as cost, energy efficiency and appearance, the team at Stelrad is on hand to help you make the right decision for your home.
Underfloor heating vs Radiators Cost
When it comes to comparing the cost of underfloor heating vs radiators, radiators tend to win out when the purchaser is looking to buy on price. The price will tend to depend on the kind of radiators you decide on – with basic radiators available from around £40 each, but the joy of radiators is that there is a wide range of radiators available at different price points allowing you to upgrade the radiators you select to perhaps include vertical radiators, bathroom or towel rail radiators or column radiators. Increasingly radiators are being seen not as heating appliances but as an integral part of the décor in a home. Whether you go for radiators or underfloor heating the level of insulation in your home is a vital element to getting the best from your heating system. You should always look to improve levels of insulation in your home to save energy usage and reduce emissions.
Radiators vs. Underfloor Heating Efficiency
One of the key selling propositions of underfloor heating is its less intrusive nature. For some the idea of 'heating under the floor' is more attractive than seeing radiators on the walls. Whilst it does require less in the way of supply piping around the home, that ignores the hundreds of metres of piping required to be laid and the screeding that needs to be laid over the piping.
For new build properties underfloor heating can be installed with the minimum of disruption of course, although most new build developers still select radiators for upstairs rooms, preferring to keep the UFH on the ground floor, or choose to remain with installing radiators throughout, but in an existing property installing underfloor heating is a very different proposition.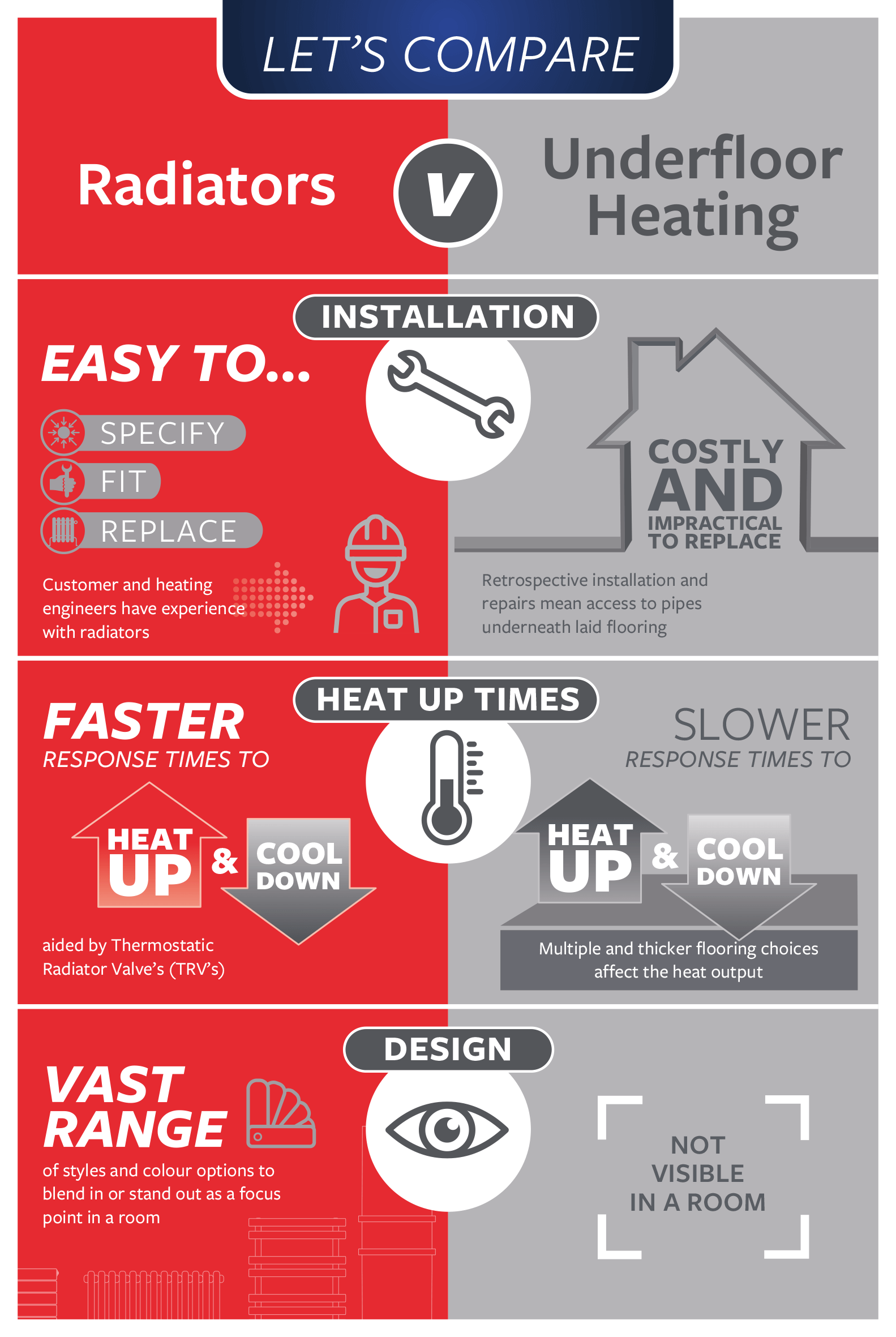 Radiators clearly win the underfloor heating vs radiators battle when it comes to replacing outdated systems since the pipework is already in place and fitting new radiators is a relatively quick and simple task for a competent installer. Most homes in the UK are heated by traditional hot water boilers and radiator systems, so switching to more modern perhaps designer or decorative radiators requires much less work that it would be to install a completely new heating system. It is very easy to replace different components within a traditional boiler driven system, so this tends to be a significant factor when people are choosing between radiators and underfloor heating. Another key benefit is the installation process itself; since radiators are common household heating appliances, the number of experienced installers and plumbers who are able to install and carry out any maintenance on radiators is huge. Many more that those able to work on underfloor heating, which is worth remembering when making a choice between the two.
One reason why UFH manufacturers claim that UFH is a popular option is the design limitations of radiators. But ironically, with the rise in the choice of radiator styles and designs, radiators are increasingly being seen as part of the décor and are even seen as the focal point of some rooms. You need to take a good look at the wide range of options available to you from radiator manufacturers these days.
Speak to our experts today to find out more about the best possible heating solutions for you.