Showing the single result Clear all
Home Series

LST Standard Horizontal Line

From:

£

189.92

Incl VAT

The Stelrad Home Series LST Standard Horizontal Line radiators are the Low Surface Temperature heating option for your home.

Buy Now

Buy Now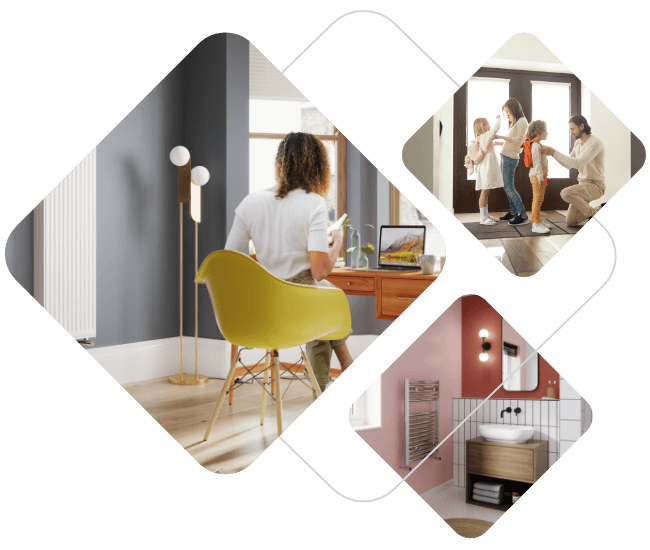 Safety First
Safety Radiators from Stelrad are an essential for those of you who wish to install a new, top-of-the-range radiator in an environment where the highest levels of safety are required for the people within it. Especially beneficial in environments such as schools, nurseries, children's bedrooms, and children's playrooms, this specifically engineered series of radiators will keep the people who encounter them safe, while heating your room to an optimal temperature.
There are 117 different Safety Radiator options available, so you can decide exactly what size and specification of Safety Radiator you purchase, depending on your own individual requirements. All Safety Radiators available are our own Low Surface temperature (LST) radiators, custom built for locations where safety is the top priority.
Safety Radiators reach a maximum surface temperature of 43°C, a relatively low comparative surface temperature compared to most models of radiator available. The low external temperature is partially due to the insulating case that surrounds the emitter itself. The casing of the radiator remains cool to touch even at high temperatures meaning it's suitable for all spaces that are more likely to have people coming into contact with them. Safety Radiators from Stelrad are also extra secure due to the locking capabilities of the cover itself, meaning if your child tries to open it up, there is no chance of them getting into it, if properly secured. The LST Plus Vertical and LST I Plus come equipped with an extra secure lock shield valve. Although the LST I Plus is factory fitted, the LST Plus Vertical covering comes within the hardware pack you will receive. Safety Radiators from Stelrad are the safest UK radiators you can buy. They really do what they say on the label. Safety Radiators all meet the NHS Guidance for 'safe hot water and surface temperature', as well as possessing an antibacterial paint finish for additional protection.
To install any of our Safety Radiator, the process is extremely simple. See our Safety Radiator Range specification brochure where the installation process for all LST models is included, helping you make your environment safer, quicker. As well as being the safest range of radiator, they are also extremely easy to install. With easy-to-follow assembly instructions provided, you can make any space safe, while keeping the house warm. Additionally, use our Radiator Size Search Calculator to find the right size for your environment.
Safety Radiators: Efficiency In Safety
As well as their childproof, low heat, protective features, Safety Radiators are also extremely efficient. You can clean your Safety Radiator with ease and they reach their full heat output in a matter of minutes, coming in a range of sizes, depending on your environmental requirements. Safety Radiators are the perfect option if you are looking for a powerful radiator that aligns with your safety concerns.
Using Safety Radiators is actually a very sustainable heating option. With little to no maintenance required, there is no risk of carbon monoxide poisoning, which is another reason they are great for schools or any facility with young children. The fact they emit such a low comparative temperature also means that less energy is used in this process. Use Stelrad's Heat Loss Calculator to see what the best option is for you.
Safety Radiators all come with a Hardware Pack, including:
Brackets – 2 x L Shaped brackets
Arthritic Adaptor
Blanking Piece
Screws
The Nuts to suit
2 x Olives
Allan Key
If you are looking for something other than a Safety Radiator, we can provide. Our selection of radiators is the widest ranging on the UK market. Browse the rest of our website to see other radiator models, such as our Column Radiators, Vertical Radiators, Towel Rail Radiators for your Kitchen or Bathroom as well as a whole selection of other Radiators in a vast range of styles, sizes and colours.
For more information on Safety Radiators and all other radiator related topics, see our FAQs page where we hope your question will be answered. Alternatively, contact us here, where we will get back to you as quickly as we can. We are always happy to help.